Tesla Model Y & Model 3 HEPA Air Filter with Activated Carbon (2 pieces)
Enjoy the benefits of superior air filtration with the Tesla Model Y & Model 3 HEPA Air Filter. Constructed with a honeycomb carbon composite layer, it is designed to reinforce the strength of the filter screen and increase space for filtering, resulting in cleaner air.
This premium HEPA air filter features an activated carbon layer that effectively filters out dust, pollen, smoke, particles, hair, and more. The activated carbon particles provide superior physical absorption for a superior clean.
Padded with tight sealing ring - The sponge sealing ring prevents shifting of the filter element while ensuring the integrity of the air filtration process. Get clean, breathable air in your Tesla today.
Our Tesla Model Y & Model 3 HEPA Air Filter with Activated Carbon provides superior filtration efficiency with its HEPA 11 Class Layer. Its high-density pleated filter paper enhances the air intake while reducing wind resistance. Our filters effectively capture particles of more than 0.25µm in size.
Easy Installation - Installation is quick and easy with the included tools and attached ribbon handle.
Quantity: 2 pieces
Fitment: Tesla Model Y (5 or 7 Seater) and Model 3
1. What is a HEPA air filter?

A High Efficiency Particulate Air (HEPA) filter is a type of air filter designed to capture and trap a high percentage of airborne particles, including dust, pollen, pet dander, bacteria, and even some viruses.
2. How does a HEPA filter work?

HEPA filters use a dense mat of fibers to mechanically trap particles as air passes through. The fibers create a labyrinthine path, causing particles to collide and become trapped, allowing clean air to pass through.
3. What are the benefits of using a HEPA air filter?

HEPA filters are highly effective at improving indoor air quality by removing a wide range of airborne pollutants. They can help alleviate allergy symptoms, reduce asthma triggers, and create a healthier living environment.
4. What types of pollutants do HEPA filters capture?

HEPA filters can capture particles as small as 0.3 microns, including allergens, dust mites, mold spores, pollen, pet dander, and even some bacteria and viruses.
5. How often should I replace a HEPA filter?

The frequency of replacement depends on usage and the specific device. Generally, HEPA filters in air purifiers should be replaced every 6 to 12 months for optimal performance.
6. Can HEPA filters remove odors and gases?

While HEPA filters are not specifically designed to remove gases and odors, some models come with additional activated carbon filters that can adsorb certain gases and odors.
7. Can HEPA filters be cleaned?

Most HEPA filters are not washable. They are designed for replacement when they become clogged with captured particles. Some devices may have washable pre-filters that can prolong the life of the HEPA filter.
This product is rated 4.8 of 5.0 stars.
It has received 38 reviews.
Works Perfectly!
We have had a funky, vinegary smell with the AC that goes away after the AC has ran for a little bit, but that initial smell everytime the AC was turned on was horrendous and a known design flaw in the Model Y due to the condensation not draining properly. Well this air filter has wiped out that smell and is far better than the standard air filter Tesla put in our Model Y!
Tesla Model Y & Model 3 HEPA Air Filter with Activated Carbon (2 pieces)
Model Y HEPA Air Filter
Looks like a well made replacement filter. The instruction sheet photos are a bit difficult to see and I will use a YouTube video for assistance.
Tesla Model Y & Model 3 HEPA Air Filter with Activated Carbon (2 pieces)
Works great-here's a good "how to" video
skunky smell is gone....took about 15 minutes altogether. Here's a great video that made it easy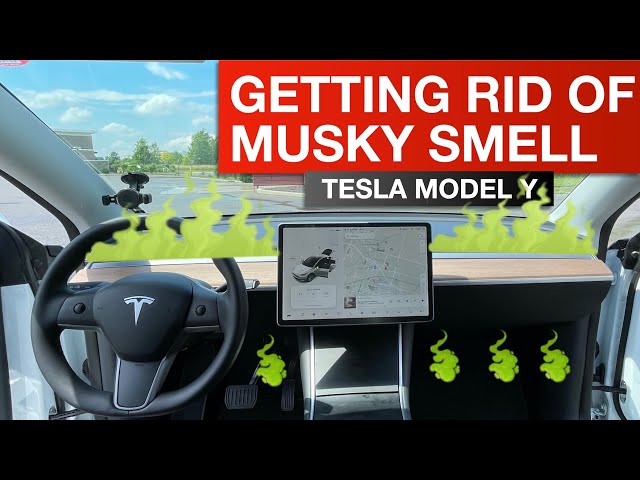 Tesla Model 3 Cabin Filters
Filters fit nicely and included tools were very helpful.
Model Y HEPA air filter
Filters appear to be made well and they fit w/o difficulty into the space. The tabs for removing them are minimal compared to Tesla's original filters. There is one pull tab on each filter in the upper corner of the filter which works well for the lower position but the top filters tab may be a bit difficult to get a hold of for removal. Overall I'm happen with them and would buy again.
Wrong tool provided for 2020 MYLR
Air filter
It has been 10 days and have not received the filters. No idea if they work or not. Tracking shows it as ordered but not sent to post office.
Easy Replace No More Stink!
Easy to install on MYLR but…..need 6mm socket not tool included for 2020 MYLR.